Alexander Lamont Sirena Collection Spring 2020
It is official. Our lock down has been extended to May 15. While we still can't leave our homes, Elements will take you to Thailand to see the latest collection from Alexander Lamont.  Please scroll to the bottom to watch the 4+ minute video of Alexander himself talk about this collection.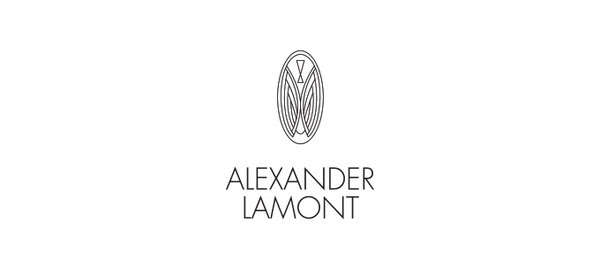 Alex spent part of his childhood in Africa growing up in a village in Kenya while his father worked there as a missionary. The local markets were filled with folk art, jewellery, wooden carved pieces and baskets that would always surround Alex in his home even after the family returned to England. These memories of childhood are woven into the inspiration for Sirena, the new collection from Alexander Lamont that invokes the power of objects and the myths, forms and colours of Africa.
A group vignette showing some pieces from Alexander Lamont's new Sirena collection

Lapis Tables
This pair of side tables glows with semi-precious tones and vibrant textures. Rubbed lacquer tops of irregular form in turquoise and lapis lazuli sit upon bronze legs cast from rye straw to create an alluring structural piece.
These pieces bring jewel-like colour and accent into the home and the allure of distant journeys and memories.
Lapis Side Table – Black patina bronze legs in our signature straw-textured finish support
long cabochons of semi-precious colour.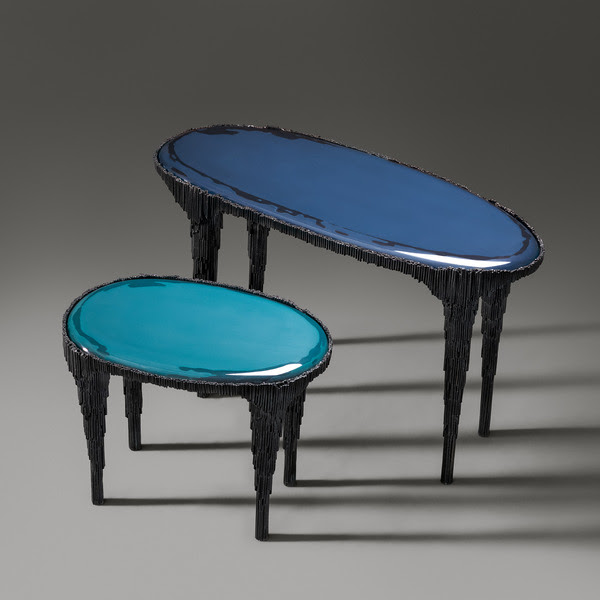 Lapis Side Table – Blue tones made from strong natural lacquer.

| | |
| --- | --- |
| Lapis Side Table – Turquoise Lacquer | Lapis Side Table – Lapis Lacquer |

Volta Mirror – Gradient Straw
The African dawn is a miraculous thing to witness as it brings a slow light into the misty beginnings of the day like a rising mirage. In the Volta Mirror, straw marquetry pulses in subtle ombre tones within a patinated brass frame. This elegant mirror frame creates a mystical light and atmosphere within a room evoking distant lands and exotic sounds of sunrise.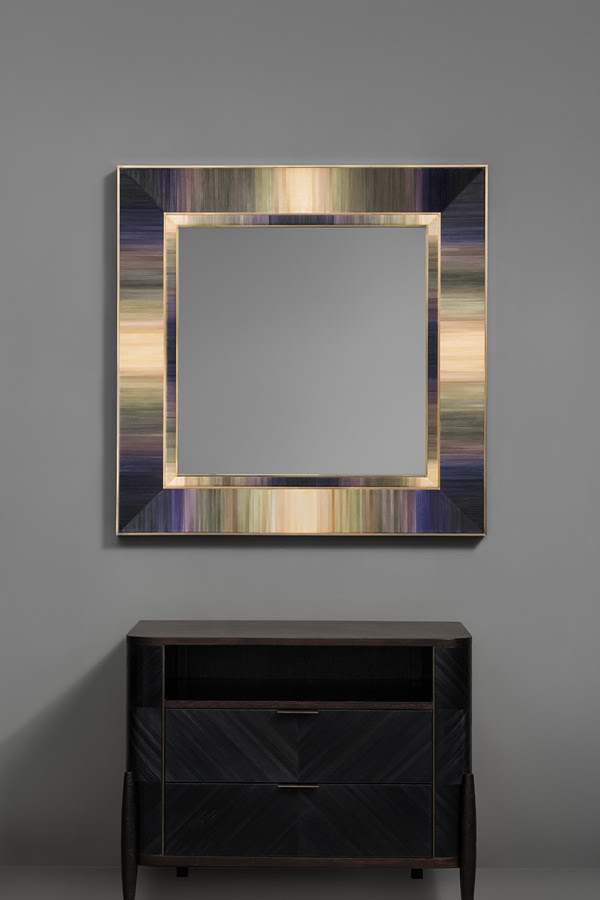 Volta Mirror – Gradient Straw shown here with the Tijuca Nightstand
Hand-selected straw in a spectrum of natural colours pulses around this elegant mirror frame in ombre tones.

Plume Lamps
The colours of the earth are hand-dyed into fine ribbons of straw marquetry from ebony to pale. These are intricately inlaid onto the surface of the Plume Lamps to create a feathered pattern in smokey, rising tones. The natural reflective quality of the straw marquetry ribbons beautifully enhances the light whether the lamps are lit or not. Each lamp rests on a dark patinated bronze base.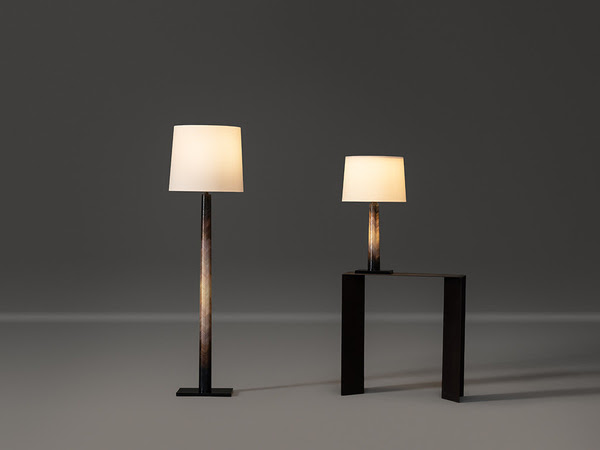 | | | |
| --- | --- | --- |
| Plume Table Lamp | Plume Floor Lamp | Straw marquetry hand dyed in ebony to pale. |
Alexander Lamont presents a short video introducing the Spring 2020 Sirena Collection. In the video Alex talks about his ideas surrounding the collection, about the creative life of the workshop and his friendship with fellow-designer Antonio da Motta who presents five pieces as part of Sirena.